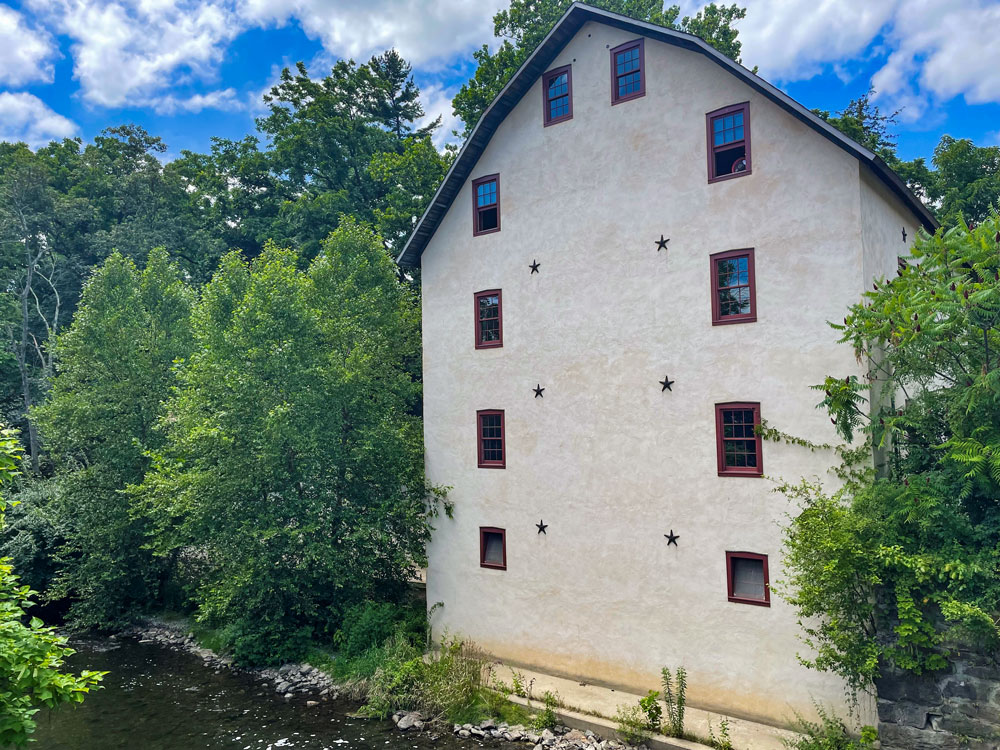 By 1784, two gristmills stood along the Musconetcong River at Halls Mills, the place named for the mills' owner. That same year, the English preacher, Francis Asbury, pledged Methodist loyalty to America, securing acceptance by George Washington and validation to spread Methodism throughout the New Jersey frontier and beyond. By the turn of the century, Halls Mills was renamed for Asbury, who, as the first American bishop, set the cornerstone for the United Methodist Church there in 1796. By 1807 there were about forty homes in or near the village. A bright future lay ahead.
In 1865, an impressive new stone mill rose to replace one of Hall's originals, high above the river where it bends sharply to the southwest. The river powered the mill's imposing water wheel, grinding grist into flour for the town's populace and for points beyond. One of the mill owner's relatives was a local farm boy named Harry Riddle, who became intrigued by the growing industrial applications of graphite, a naturally occurring crystalline form of carbon that was finding ever more uses in the emergent metallurgy and manufacturing industries of the day.
Although graphite was not mined locally, Riddle knew where he could refine the crystals down to their useful slippery consistency. In 1895, he leased the flour mill, hired a miller and adapted the machinery to process graphite. Whatever the competitive advantage Mr. Riddle had formulated by milling in his remote village, he was certainly successful, increasing the mill's output fourfold in three years, enabling him to purchase the mill outright in 1903, as well a second mill across the river five years later. "Plant No. 2" became the primary workhorse for Asbury's production, while the original mill saw intermittent use until its eventual closure in 1970.
In 1999, the Riddle family donated their original mill, along with three-and-a half acres of property and two other buildings to the Musconetcong Watershed Association (MWA) who began work on the mill in 2012. The Mill underwent significant structural rehabilitation, completed in 2019, with plans to open as an Interpretive Center with exhibits.
Trail weekend: open Sunday, Nov. 5, 10am-4pm. The Musconetcong Watershed Association will be giving tours of the mill's turbine and equipment, as well people's connection to the Musconetcong National Wild and Scenic River – a recognition based upon the Native American, industrial, agricultural, and recreational uses of the river.