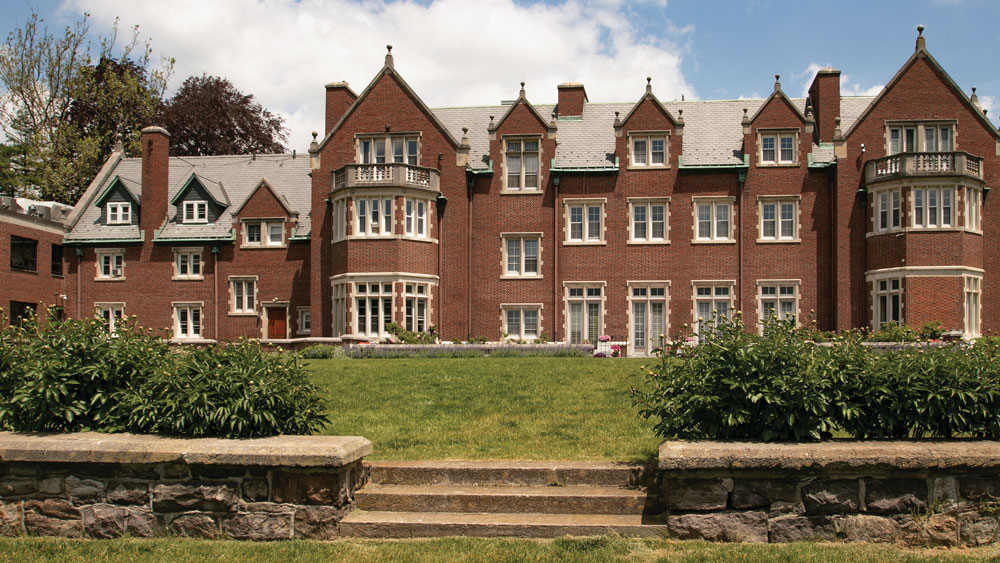 Rutherfurd Hall is typical of the American Country Place Movement in the early 1900s, when the wealthy built great estates in places like Newport, RI, the Upper Hudson Valley and parts of New Jersey, like Allamuchy in Warren County. The Rutherfurd family has occupied what is now Allamuchy and Green Townships (spanning both Warren and Sussex Counties) for hundreds of years, since 1758, when Walter Rutherfurd married Catherine Alexander Parker and joined in ownership of this portion of her family's extensive properties. Passed from generation to generation, the family holdings were greatly expanded at the end of the nineteenth century by John Stuyvesant Rutherfurd (whose name was changed to Rutherfurd Stuyvesant in order to qualify for a wealthy great uncle's inheritance) and his youngest brother Winthrop Chanler Rutherfurd. While his brother embarked on a major expansion at Tranquillity Farms, increasing the ancestral estate to five thousand acres and tripling the original 1763 house in size to what became known as the Stuyvesant Mansion, Winthrop (1862-1944) built the home known by the family as the "Big House", identified by the rest of us as Rutherfurd Hall. Famed architect Whitney Warren designed the eighteen-thousand square foot Tudor county house, with thirty-eight rooms between 1903-1905. Rutherfurd Hall's brick exterior, and its interior woodwork, fireplaces, ceilings and original furnishings echo the English Tudor period, the cultural era in which the Rutherfurd family came to prominence in Scotland.
When Winthrop's first wife, Alice Morton Rutherfurd, mother of six children, died in 1917 he remarried Lucy Page Mercer. Loved and lauded by the family for her free and generous spirit, Lucy has gained celebrity in recent years due to the revelation of her long association with Franklin Delano Roosevelt. FDR visited the widowed Lucy at Rutherfurd Hall in September, 1944 after Winthrop's death earlier that same year. Lucy's story is but one of hundreds of tales that unfold inside and out at Rutherfurd Hall as it advances its interpretation plans and exhibits. This quintessential country estate is well-preserved, cared for by the Congregation of the Daughters of Divine Charity who named it Villa Madonna. The sisters were in residence from 1950 when they purchased the house and remaining 35 acres of the estate from the Rutherfurd family until 2008 when the property was sold to the Allamuchy Township Board of Education, shifting the estate from private to public ownership. An infirmary that was added by the nuns in 1959 has been adapted as a public elementary school, while the mansion, behind and adjacent, serves as a museum and educational facility that focuses on relating the area's history from the time of Walter and Catherine Rutherfurd to the present.
The house is now on both NJ and National Registers of Historic Places. As venue for public art classes, lectures, concerts, fairs and festivals as well as private events, Rutherfurd Hall is well on the way to achieving self-sufficiency. It is an enterprise that protects and preserves its historical, cultural and architectural integrity; all while providing education and enrichment opportunities for the residents of Allamuchy and surrounding communities.
Trail weekend: open Saturday, Nov. 4, 10am-4pm for tours starting on the hour.