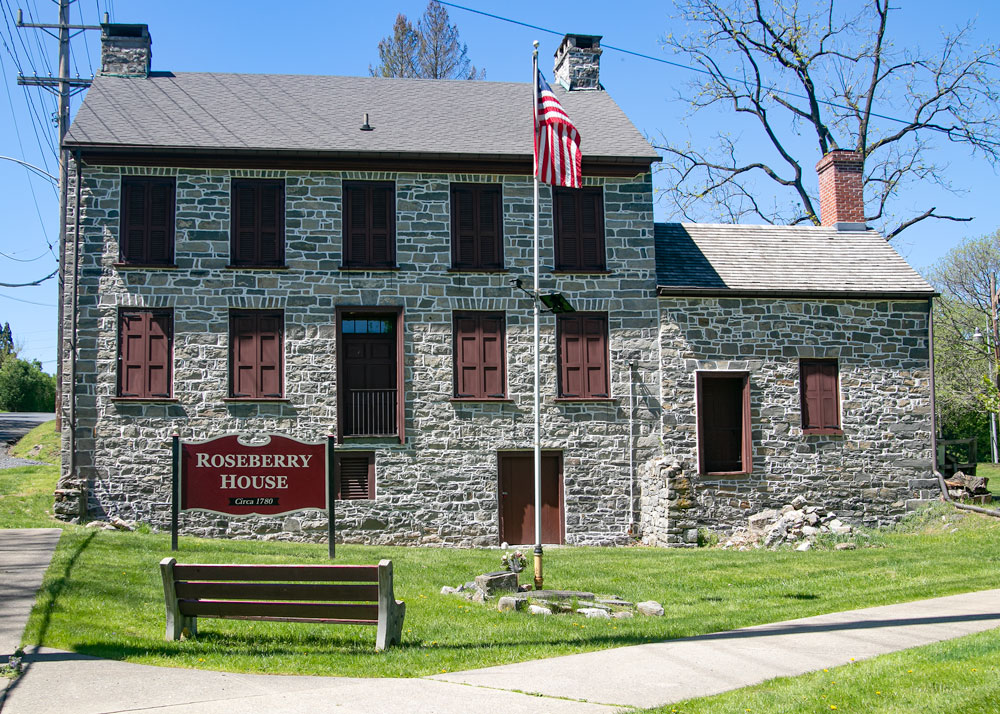 The brothers Roseberry came to America from England, settling in Phillipsburg around 1750. John Roseberry gained stature when he married the daughter of William Phillips, for whom the town was named. In 1787, Roseberry added to his considerable holdings with the acquisition of a stately home, which had been confiscated from John Tabor Kempe, a Loyalist who left town during the American Revolution. Built in the English style labeled by architects as "Georgian", the well-planned house displayed the gracious and symmetric proportions that evolved from the classic traditions of Greece and Rome. Constructed with rough-cut quarry stone between 1765 and 1783, the house employed a five-bay, two-story plan that became representative of an emerging prosperity in the Colonies. An attached one-and-a-half story kitchen was added in 1815. Enhancing the home's luster, its interior walls were garnished with decorative paintings.
Much later it its life, the home came into the possession of Walter Gess and his family, who, although they made modifications for more modern living, managed to preserve many of the original features of the house. In the early 1970s, the Phillipsburg School District, which had purchased the property as part of the site for a new middle school, proposed the building's demolition. But citizens who realized the home's prominent place in their town's history banded together as the Phillipsburg Area Historical Society (PAHS) and successfully campaigned for the building's rescue, having it placed on both the National and State Historic Registers. However, persistent vandalism and general municipal apathy delayed much-needed repairs for decades.
Yet, perseverance eventually led to preservation, and today the oldest building in town may be among its most appealing. With renewed interest and help from the community, and with grants county, state and national sources, PAHS has facilitated major restorations to the exterior of the house, along with the complete interior reconstruction of the adjoining kitchen. The Society is now focused on projects to install heating for the planned use of the bank cellar and first floor, restoration of the first floor as well as ADA compliant bathroom and building access.
Trail weekend: open Sunday, Nov. 5, 10am-4pm.