In 1839, the Warren County village known as Gravel Hill renamed itself in honor of its most celebrated citizen, thirty-seven-year-old John Insley Blair. Around 1820, Blair had moved to the small hamlet late in his teens, going into partnership as a storekeeper and two years later owning the store outright, a business he would foster for forty years. At age twenty-three, Blair became the postmaster of the local office and, at age twenty-six, he married Anne Locke with whom he established a homestead at Gravel Hill.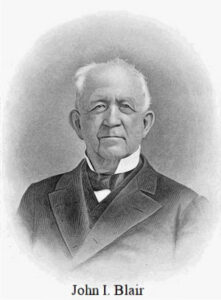 Later, John I. became interested in flour and cotton production, eventually operating four flouring mills at one time. Other transactions brought various amounts of real estate into his hands, and his cumulative local landholdings became substantial. Mr. Blair began to follow other entrepreneurial pursuits that would ensure him a fabled legacy as railroad mogul and land developer.
Blair's life, which spanned the entire nineteenth century—more than forty percent of America's history—reflects the country's development over those hundred years from a segmented rural society, to a cohesive industrial nation designed in no small part by the railroad and financial networks that he facilitated. Despite his accomplishment as one of the world's wealthiest men, (his fortune was equivalent to $43 billion in today's economy) Blair, known to townsfolk as "plain John I.", sustained a simple, unembellished lifestyle in his beloved village. The area's extraordinary heritage is in large part due to the fact that his ambition, and his ideas that flourished throughout America originated here in the New Jersey frontier.
The Blairstown Historic District was listed on the National Register of Historic Places in 2007. Highlighted by the stone grist mill, built in 1825, almost half of the primary buildings within the District were built during John Blair's lifetime, and the boom period following the construction of the Blairstown Railway in 1877. The distinctive historical character of the village results from the survival of these buildings, largely because the railroad was the last major transportation improvement that the town has seen. State Route 94 has since bypassed Main Street as the main thoroughfare for travelers, and buildings "in town" have suffered few contemporary updates. The two-story porches that remain on many of the storefronts are particularly reminiscent of late 19th and early 20th century main streets. Ample signage and a map/brochure make a self-guided walking tour of Blairstown instructive and enjoyable.
Exhibit at the Old Mill (12 Main St) on Saturday, 10am – 4pm with guided historic district tours 11am and 3pm.