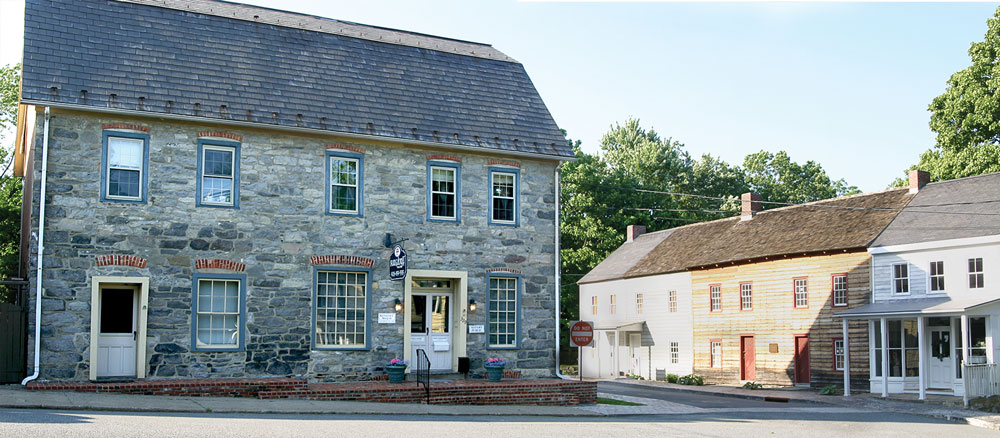 When Moravian missionaries arrived in the vicinity of Jenny Jump Mountain, they enjoyed the hospitality of Samuel Green Jr. and his family, who were so enamored with the Moravians there that they joined the faith and eventually offered a thousand acres of their land on which to build the planned settlement called Hope. Founded in 1769, this beautiful village with its collection of fine old stone structures is, in itself, a museum. The Moravians constructed a gristmill with a race that diverted water from the Beaver Brook for its power, mechanics' shops, a store, a distillery, tavern, tannery, and a church, along with private homes. Most of their buildings were sturdy stone structures, many of which have survived to the current day. The Moravians departed Hope in 1808 , but they left behind the unique architecture that enchants visitors when they come to town, buildings that have been restored and adapted for commercial businesses or contemporary homes.
The Hope Historical Society came into being in June of 1954 with its first meeting place and museum in temporary quarters in the old Moravian Mill. The next year the Society moved to its present, permanent, home, the "little house by the side of the road" on High Street (Route 519) next to the stone arch bridge over Beaver Brook. At the bicentennial of the founding of the village in 1969, the Society placed plaques on all homes and other buildings in the community that predated 1830.
After the Historic Moravian Village of Hope was named to the state and national Registers of Historic Places in 1976, residents thought that a local historic ordinance and Historic District Commission would be the best way to protect the historic structures. An inventory of Hope's historic district found a number of deteriorating structures and inspired members of the historical society to form Help Our Preservation Effort (H.O.P.E.). The organization developed an archive and documented each historic structure within the district. Visitors can find a well-designed brochure for a self-guided walking tour of the village at the Hope Museum.
During Trail Weekend, there will be self-guided walking tours with representatives at prominent buildings to offer historical facts on Saturday, Nov. 4. Begin at the Hope Community Center at 5 Walnut Street (intersection with Cedar St.)