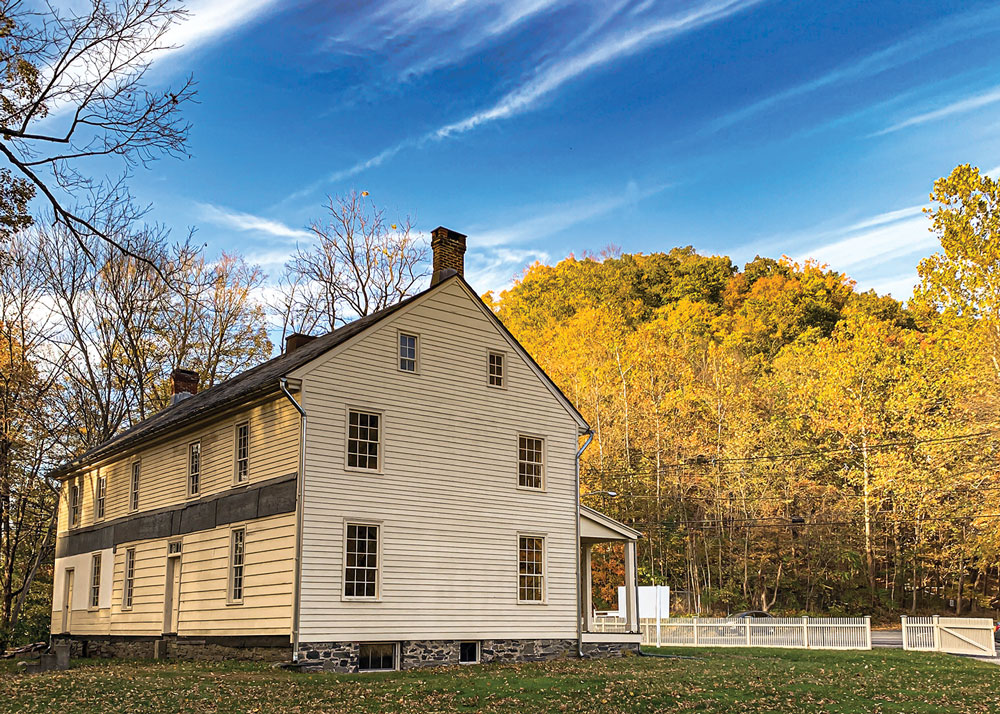 Catering to both road and river traffic and commerce, about fifty acres along the Delaware River in newly formed Knowlton Township appealed to brothers James and Adam Ramsay in 1795. The prime location, complete with a tributary cascading from the mountains into the Delaware River, held unlimited potential. Solely owned by James since 1801, the hamlet of Ramsaysburg prospered and for eighty years his family grew and thrived, serving the community with a tavern, store, post office, sawmill, blacksmith and hotel. The river supplied transportation for the logs that the sawmill and lumberyard needed, and the power of its tributary powered the mill. They took advantage of the main road and opened a hotel, which also capitalized on the appeal of the river. The family supported several tenants, including those who farmed the land, and likely employed several servants.
A mile away, the village of Delaware was established in the 1850s by local businessman John I. Blair for the purpose of serving as a terminus for the Warren Railroad. It was the railroad station at Delaware which significantly impacted Ramsaysburg as river traffic lost prominence. The two hamlets led distinctly different lives: as Delaware thrived, Ramsaysburg declined.
The buildings that you see at this twelve-acre historical park — a tavern, barn, cottage, smokehouse and shed — represent the activity that occurred at the homestead during its heyday. Although they've seen their share of abuse and neglect, the remaining structures are relatively true to their original form and are irreplaceable. Visitors exploring the site, listed on State and National Historic Registers, can experience the cultural changes wrought by the extraordinary confluence of river, railroad and highway innovations. The site also provides links to the area's abundant cultural resources to be found in historic villages and along scenic byways.
Trail visitors will enjoy interpretive tours of the grounds as well as seasonal family activities and live music on Saturday, Nov. 4, 10am – 4pm.
140 Route 46, Delaware
at the intersection with Ramseyburg Road